Dear Friends,
This week has been an unusual week for me here at the American Angus Hall of Fame as a world renowned artist, Richard Halstead, from the Hallstead Studios in Evanston, Illinois, has been here doing my portrait for the Saddle and Sirloin Portrait Gallery. He will spend five days with me taking pictures and getting images. He will then return to his studio and it will take him approximately two months to finish for an unveiling on November 12, 2017, at the North American Livestock Show in Louisville, Kentucky.
The Saddle and Sirloin Portrait Gallery in Louisville, Kentucky, has been in existence since 1903 when it started at the International Livestock Show. Each year a person is inducted in to the Portrait Gallery and this year I was so honored to be the one.
It is the custom to have a fundraiser. Following is the fundraiser letter and related form. The letter is self-explanatory and I would like to solicit your help. The money goes into a scholarship fund in my name. I am asking for your help in this venture.
I have never been involved in a fundraiser for myself so it is a new experience and I assure you it will be the only one that I will ever have.
Thank you in advance for your help.
Cheers,
Tom Burke
Click images to view larger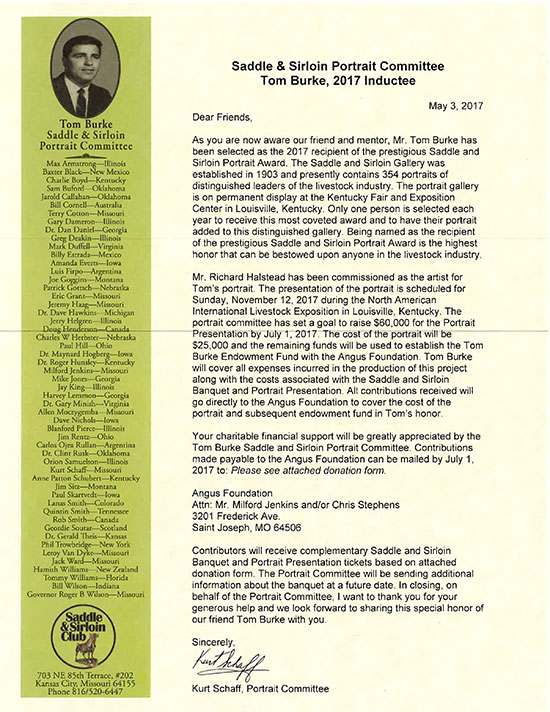 ---
Tom Burke
(816) 853-2697

Kurt Schaff
(816) 520-6447
Jeremy Haag
(816) 516-1309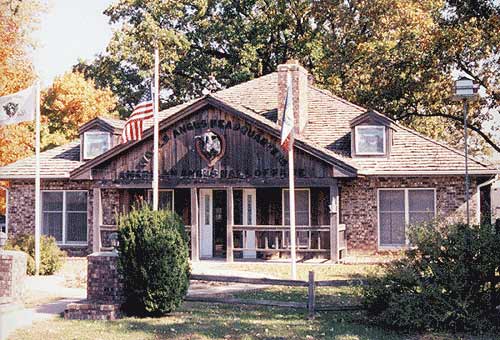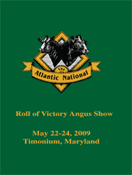 Atlantic National
Complete 20 year history of the Atlantic National, filled with pictures and Angus information. Send $20.00 plus $5.00 postage and handling to:
American Angus Hall of Fame
PO Box 660
Smithville, MO 64089
816-532-0811
angushall@earthlink.net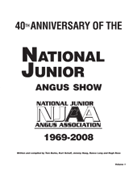 National Junior Angus Show
This book contains a complete 40 year history of the National Junior Angus Show, 1969 through 2008, as well as the complete history of the National Junior Showmanship Contest from 1967 through 2008. Nearly 1000 pages of Angus history with over 5000 photos, a true masterpiece.
Send $60.00 plus $10.00 postage and handling to:
Christy Page, Georgia Angus Association
638 Lake Crest Dr., Jefferson, GA 30549
706-387-0656, info@georgiaangus.org
---